As the popularity and production of electric vehicles continues to rise, Heritage Cadillac wants to help answer any questions you may have. Knowing how to find a charging station for your vehicle while on the go is essential, so keep reading for a few of the easy ways to find an EV station near you. As always, feel free to contact our friendly team if you have any questions. 
In-Vehicle Apps
There are several ways to find an EV charging station, some of which will vary depending on the type of EV vehicle you drive. For most vehicles, including the LYRIQ, you'll have an app within the infotainment system that allows you to search for local compatible charging stations, such as grocery stores or parking garages with DC Fast Charge. This makes it easy to search for stations near your current location if you know that you are close to running out of battery power or plan ahead and see ones along your route. Thanks to the advanced engineering of EV powertrains, you don't have to worry about waiting for hours at a public charging station just to get back on the move. With the 2023 LYRIQ you'll get up to 76 miles of range in roughly 10 minutes* at DC Fast Charge stations. 
Smartphone Apps
You can also download one of many apps available now for your smartphone to look up EV charging stations. In this case it's important to know which type of charging station will work with your vehicle. In addition to the charger types (Level 1, Level 2, and DC Fast), there are also connectors. With DC Fast Charge, for example, your vehicle will have one of three main charging ports: SAE CCS, CHAdeMO, or Tesla. We recommend finding an app or website that allows you to filter by charger types and connectors. This minimizes the chance of heading to a charging station only to realize it won't accommodate your vehicle or will take longer than you expected to charge. You can also find a charging station near on the Cadillac's Electric Life webpage. 
Planning Your EV Driving Route
Whether you are a suburban commuter, super commuter, city dweller, or road tripper, the good news is that more and more electric vehicle charging stations are being added every year throughout the country. If you are in the Chicago suburbs you'll find numerous options available, making it easy to get your vehicle some extra mileage while you are grabbing lunch or shopping. If you are planning to travel across the country, we recommend utilizing the tools mentioned above to help get an idea of how accessible charging stations will be along your destination. Don't forget that the 2023 LYRIQ has an estimated 300 mile driving range on a full charge**, which is ideal for all kinds of travel. 
If you've ever wondered how you can find an EV charging station, we hope that now you feel confident in the answer. Heritage Cadillac is the trusted dealership for drivers throughout Lombard, Naperville, and Schaumburg!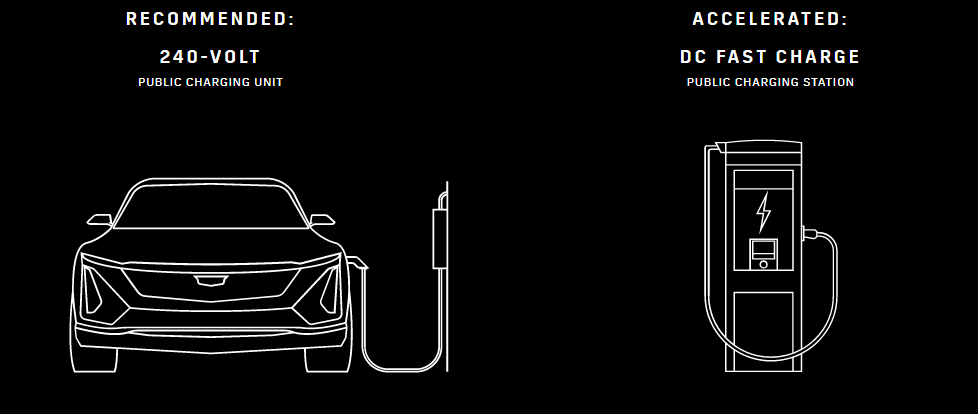 * Actual charge times will vary based on battery starting state of charge, battery condition, output of charger, vehicle settings and outside temperature. See the vehicle's Owner's Manual for additional limitations.
** Based on GM testing. GM estimated. EPA estimates not yet available. Actual range will vary based on several factors, including temperature, terrain, battery age, loading, use and maintenance.